Requirements for the student
PPL (A) holder, including night or CPL (A) rating and at least 50 hours of cross country navigation flying as a pilot-in-command on airplanes or helicopters, of which at least 10 hours must be on airplanes.
Holder of at least a valid class II medical certificate extended by examination according to EU1178 / 2011 Part-MED.
Minimum age of 18
A valid radiotelephone license
An IR (A) applicant must demonstrate the ability to use the English language by passing an IR exam which we can also offer you.
To begin practical training, it is necessary to complete the theoretical IR (A) / ATPL (A) instruction in an approved ATO. The student must submit a certificate of completion of the theoretical IR (A) / ATPL (A) course before the course begins.
Recording of past experience: The holder of a CPL (A) or module - Instrument Flight Basis graduate may have a total modular training volume reduced by up to 40 h.
Course of the training
Theoretical training
To begin practical training, it is necessary to complete the theoretical IR (A) / ATPL (A) instruction in an approved ATO. The student must submit a certificate of completion of the theoretical IR (A) / ATPL (A) course before the course begins.
For a COMPETENCY BASED IR, an abbreviated IR theory that includes 80 hours of instruction is sufficient.
We have prepared a discounted offer of IR theory lessons for you. The lessons take place remotely and study materials are included. This discounted price is only valid if the flight training takes place at our school.
Practical lessons
COMPETENCY BASED IR-SEP
This relatively new possibility of obtaining a FULL-FEATURED IR qualification is very popular throughout Europe. It consists of a reduced number of hours in training. Instead of the classic 50 hours, it is enough to fly only 40 hours!
This is a new way of conducting training where your instructor evaluates your skills and competencies to perform different IFR procedures and can recommend you to take a test after a reduced raid. However, this raid is minimal and can only be validated if you are sufficiently prepared for the exam.
An indisputable advantage for private pilots is the possibility to pass only a shortened theory of 80 hours.
After completing the course and passing the exam you will get a full IFR license! There is no difference between a license obtained by classical modular training (50 flight hours) and a qualification based training (40 flight hours). Holders of shortened IR theory will only not be allowed to fly HPCA (high performance complex aircraft). However, this limitation is simply eliminated by completing a full ATPL or IR theory.
COMPARING BOTH WAYS TO GET AN SEP-IR LICENSE: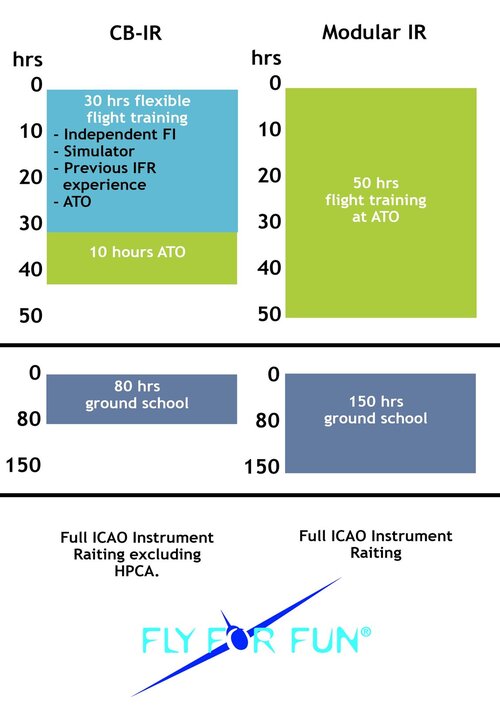 Why to choose our school
We know that instrument flying is a cause for concern for many students. After all, it is something new and a good understanding of IFR is the key to the successful completion of a tender for airlines.
Therefore, you have a new choice of your instructor, who will guide you through the whole IFR training!
Jan Matúšů, our main instrument training instructor, will begin with ground preparation and practical training in the airplane. However, during the training you have the option to switch to another instructor at any time or to train with more instructors. It's up to you.
According to your further focus, we will also direct your training. You can choose from several scenarios of the whole training:
I want to be a transport pilot and get myself ready for a tender
extension of theory lessons by a planning minimum
training various scenarios of tenders on the simulator
a focus on commercial air transport regulations
SOP training extension, advanced reading of Jeppesen maps
I want to go for trips
focusing mainly on the procedures of small airplanes not covered by commercial air transport
you will learn to plan your IFR flight yourself
adaption of the training to your other destinations
I want to increase my pilot skills
focusing on advanced piloting techniques and trying to choose the weather when you really fly in the clouds
advanced training of unusual positions
bad weather course for VFR flights on the simulator within the training
According to your choice, the instructor will primarily give you the experience you need during training. You can combine training and focus on both sports and transport aircraft.
The hours on the simulator are taken as maximum. In case of interest, it is possible to reduce the number of hours on the simulator and increase the number of hours on the aircraft. For those who really want to "deeply study IFR" and learn a lot, it is possible to fly all the training on the plane.
Finally, a word from the instructor:
During my flying on the airliners, I knew how important it was to really understand IFR flying. I saw different levels of pilots' abilities around me, and I must say that it can be seen how, unfortunately, the flight training has lost quality over time.
There are schools that prepare pupils primarily for the IFR exam. And they usually do well. But if this "IFR Flyer" is to plan a flight to Germany or to start flying on a reputable airline, you know how much knowledge is missing.
Choose a school where they explain to you what happens during a go around in Paris, where controllers expect you to keep descending for a while instead of adding full gases. What does it mean when you fly at a secondary radar approach, and what do they want you to do, when the controller tells you "Do you request Deconfliction or traffic service" over Scotland? Choose an instructor who doesn't want to "punch your IFR clock" but who really wants to teach you something. Often when you go on your first IFR descent to the minimum or after your first flight in your new aerial job, you will find out how important a decision it was.
Jan Matúšů,
Training leader, Fly For Fun
Call or write and arrange a meeting with Jan. Get more information and agree on the ideal procedure!